DIY Football Decor
Disclosure: This shop has been compensated by Collective Bias, Inc. and its advertiser. All opinions are mine alone. #TheOtherBowl #CollectiveBias
Hello & Happy Wednesday!
I'll be honest, I've never been one to watch sports on television. Attending an event and watching the game take place and getting the full experience, I'm all about it. However when it comes to experciencing the same excitement watching a screen. Uless it's the Super Bowl, I don't take interest lol
What do I take interest in always though?!
Entertaining, for anything and everything!
I find that countless stores offer decor for every occasion, but the product is cheap and typically tossed after one use. That being said, with football in full swing I thought I'd create an effortless solution to making your kitchen more festive as well as mitigating unwanted smells..
Cue the DIY football planters that can be filled with whatever you desire! From fresh fruit, to snacks and even candles, these are fun affordable options that add a hand crafted touch to any football gathering.
If it sounds involved or that you have to be monet to create these pots, you're greatly mistaken! Easy as 1,2,3 and can be thrown together within 20 minutes! Get the full tutorial for this effortless creation below!
While entertaining for any season, I always am looking for remedies to mitigate food smells or smells altogether. While I love candles and fresh citrus to organically achieve a pleasant aroma, other options such as Poo~Pourri products are a great solution and add a little humor to the occasion. Even typing the name of that product makes me laugh, but they come in an array of fragrances, are packaged in small discreet bottles, and are guaranteed to make your guests smile and ask you about the product!
So How does it work?
It's pretty simple, really! When spritzed into the toilet bowl before-you-go, Poo~Pourri's pureblend of NATURAL ESSENTIAL OILS creates a film on the surface of the water. The protective barrier traps odor under the surface, before it ever begins! All you'll smell is a refreshing bouquet of NATURAL ESSENTIAL OILS. Flush yeah!
The festive Royal Flush option is a gorgeous blend of eucalyptus and spearmint utilizing natural essential oils that make it my personal favorite. Poo~Pourri transforms your bathroom experience (and those who come in after you) by stopping bathroom odor before it begins…seriously!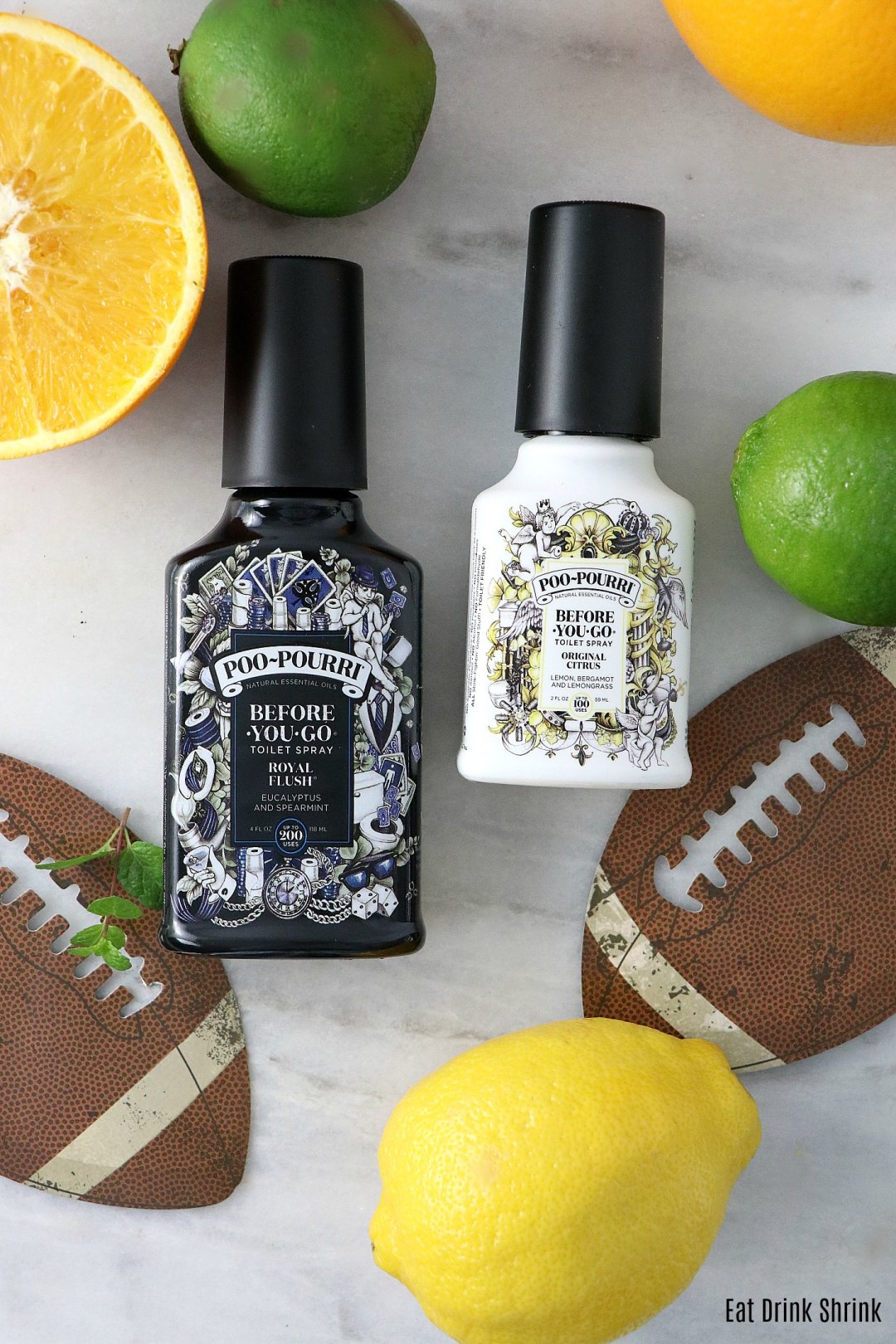 DIY Tutorial
Eat Drink Shrink
DIY Football Decor
25 minPrep Time
25 minTotal Time
Ingredients
2 clay pots
1/3 cup brown paint
1/3 cup white paint
Instructions
Cover the entire pot with brown paint. Allow to dry for 10 minutes. Throw on a second coat. Allow to dry and then add the white lines. Allow to dry again and throw on the second coat. Fill with whatever you like!
7.8.1.2
1064
http://eatdrinkshrink.com/eds-life/diy-football-decor